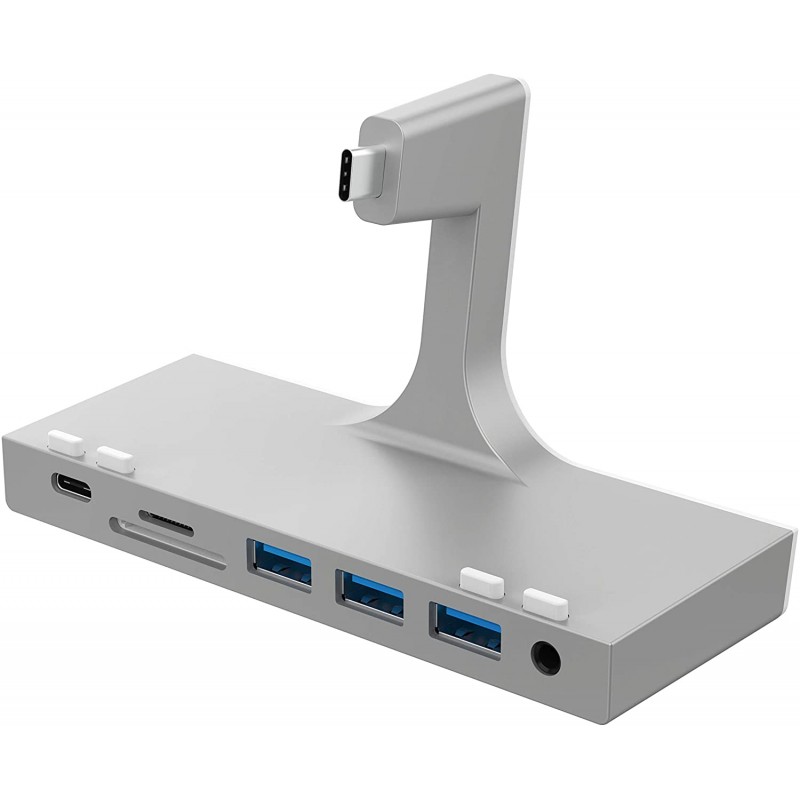  
Sabrent iMac Hub w/ Front Access USB Ports, SD/Micro SD Reader, 3.5mm Jack and Rear HDMI 2.0 Output (iMac 2017 and Later)
GST included
3 business days
The Sabrent HB-SIMC Multi-Port USB Type-C Hub (iMac 2017 and Later) adds Front access to additional USB 3.1 Type-C & USB 3.1 Type-A ports, Independent SD and micro-SD UHS-II card readers, 3.5mm headphone connector to your iMac allowing you to connect USB devices such as digital cameras, phones, external hard drives, flash drives, and printers as well as card readers and headphones to one convenient place
Security policy (edit with Customer reassurance module)

Delivery policy (edit with Customer reassurance module)

Return policy (edit with Customer reassurance module)
Sabrent Multi-Port iMac Hub with Front Access USB Ports, SD/Micro SD Card Reader, 3.5mm Headphone Jack and Rear HDMI 2.0 Output (iMac 2017 and Later) HB-SIMC
  No more need to twist cables to get to the ports vertically, Now you can easily access ports at an ergonomic angle.
The Sabrent HB-SIMC Multi-Port USB Type-C Hub (iMac 2017 and Later) adds Front access to additional USB 3.1 Type-C & USB 3.1 Type-A ports, Independent SD and micro-SD UHS-II card readers, 3.5mm headphone connector to your iMac allowing you to connect USB devices such as digital cameras, phones, external hard drives, flash drives, and printers as well as card readers and headphones to one convenient place. Additionally, a rear HDMI 2.0 port is included enabling a cleaner look and resolutions of up to 4K@60Hz. Its sleek design the perfect complement to your iMac computer. It does not require any software or complicated installation process. With a slim design, it saves you precious desktop space.         

 
  Features: 
The best solution for a front access and addition to your iMac's rear expansion ports.

Exclusively designed for the iMac 2017 and later models.

USB 3.1 Type-C upstream connector (connects to the back of the iMac).

Front access to 1 x USB 3.1 Type-C port (up to 5 Gb/s data speed @ 5V / 900mA).

Front access to 3 x USB 3.1 Type-A ports (up to 5 Gb/s data speed @ 5V / 900mA).
Front access to 3.5mm headphone connector.

Rear HDMI 2.0 port for a cleaner look and up to 4K@60Hz output resolution..
  System requirements: 
* iMac Unibody 2017 or later Mac OS
*Mac OS
*Windows OS
NOTE:
It will NOT fit any iMac manufactured before 2017.     
 WIRELESS DEVICES: Please be aware that 2.4 GHz wireless devices, such as wireless keyboard and mouse adapters, may not work in close proximity to USB 3 devices or hubs. 

Package contents   
USB Type-C hub.

AC 110~240V to DC 12V 2A power adapter + AU Converter.

Quick installation guide
  
    
  Warranty: 
This product comes with a one year warranty.